Now again, the two great player Sachin Tendulkar and Brian Lara will lock horns with each other featuring for the Road Safety World Series initiative, in the opening match starting on March 7 at 6:15 pm.
Live streaming will be only on CineplexHD channel.
The league comprises five teams, namely, India Legends, West Indies Legend, Sri Lanka Legends, South Africa Legends, and Australia Legends.
Popular names like Yuvraj Singh, Virender Sehwag, and Zaheer Khan will accompany Sachin Tendulkar in the India Legends side. On the other hand, Shivnarine Chandrapaul will accompany Brian Lara in West Indies Legends side.
Brad Hodge and Brett Lee will feature for Australia Legends. Sri Lanka and South Africa Legends include the likes of Tillakaratne Dilshan, Ajantha Mendis, Muttiah Muralitharan, and Jonty Rhodes.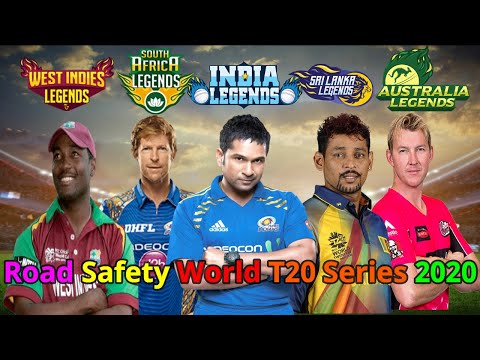 The league comprises as many as eleven matches with the finals being played on March 22 at CCI Ground, Brabourne Stadium. It has been learnt that MCA Stadium in Pune, Wankhede Stadium and Dr. DY Patil Stadium in Mumbai will host the other fixtures of the tournament.
"Road safety is a serious concern. One person dies every 4 minutes in India and we all should join hands to make our roads safe and save precious human lives," said Shant Bharat Surakshit Bharat, the senior member of the Road Safety Cell of Maharashtra and Chairman of the Trust.
Fixture and Venue of the Matches:
Match 1: March 7, 2020: India Legends vs West Indies Legends, Wankhede (Mumbai)
Match 2: March 8, 2020: Australia Legends vs Sri Lanka Legends, Wankhede (Mumbai)
Match 3: March 10, 2020: India Legends vs Sri Lanka Legends, DY Patil (Navi Mumbai)
Match 4: March 11, 2020: West Indies Legends vs South Africa Legends, DY Patil (Navi Mumbai)
Match 5: March 13, 2020: South Africa Legends vs Sri Lanka Legends, DY Patil (Navi Mumbai)
Match 6: March 14, 2020: India Legends vs South Africa Legends, MCA Stadium (Pune)
Match 7: March 16, 2020: Australia Legends vs West Indies Legends, MCA Stadium (Pune)
Match 8: March 17, 2020: West Indies Legends vs Sri Lanka Legends, MCA Stadium (Pune)
Match 9: March 19, 2020: Australia Legends vs South Africa Legends, DY Patil (Navi Mumbai)
Match 10: March 20, 2020: India Legends vs Australia Legends, MCA Stadium (Pune)
Match 11: March 22, 2020: FINAL, Brabourne Stadium (CCI, Mumbai)